|  Retail Use Case | Boosting Customer Relationship and Store Revenue |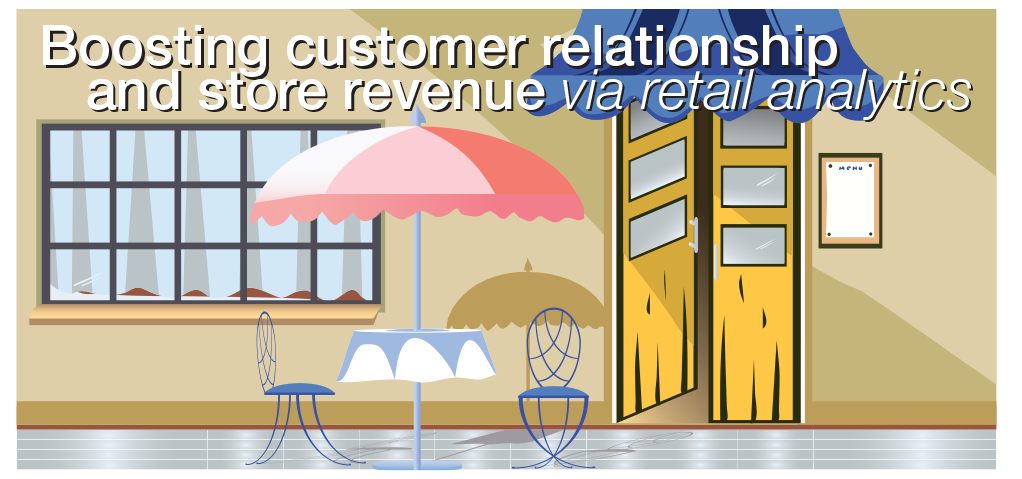 A Malaysian Café chain was able to boost its business by adopting a WiFi-based Customer Relationship Management (CRM) solution, which helped to collect valuable customer behavior data and to monetize by targeted advertising and promotions via email and SMS. WiFi-enabled smartphones are constantly broad- casting a unique device ID and the solution's hardware detects and anonymizes these IDs, adds time and location data and stores them in the database. The used analytics engine crunches the data to provide the Café owner with customer analytics and the Platform's Hub centralizes all the data and turns them into charts and visualization which the Café owner can access anywhere, anytime. With this retail analytics solution, highly targeted campaigns can be designed in order to attract new customers and retain loyal ones.
The Client was having difficulties obtaining sign ups and creating a customer database for their loyalty program, and they did not know their customers' engagement patterns in the outlets, such as the time and amount spent there, how often they returned, as well as their demographics.
A retail analytics solution in all their outlets provided the Client with a Guest WiFi captive portal solution, which helps to collect customer data and provide advertising space for the Client. The WiFi sensor also collects mobile device data, which is then processed through platform's algorithms to derive customer shopping behaviour data, such as the number of walk-bys, visitors, new versus repeat visitors as well as a calculation on retention rate, visit frequency and recency, average dwell time of each customer, and dwell time distribution.
Based on the customer data collected and the derived shopping behaviour information, The service provider then crafted highly targeted campaigns such as first time WiFi sign up campaign to attract new customers by giving a 15 percent discount on cake products, loyal customer campaign which was used to attract existing customers to return by giving a special 20 percent discount on coffee on certain days and time. There was also a new products campaign aimed at keeping existing customers interested in the Client's new product launches.
The solution generated more than 3,000 names for the database in three months. And the Client was able to obtain detailed visitor trends in all their outlets such as visitor demographics, number of visits, average dwell time and visit frequency. This information then helped the Client to craft targeted campaigns to boost their sales. The company then launched these campaigns and was able to measure the ROI for each campaign in detail, such as the percentage of emails viewed and the percentage of coupons claimed. Overall, the Client generated more return per campaign, which is a 3% revenue increase.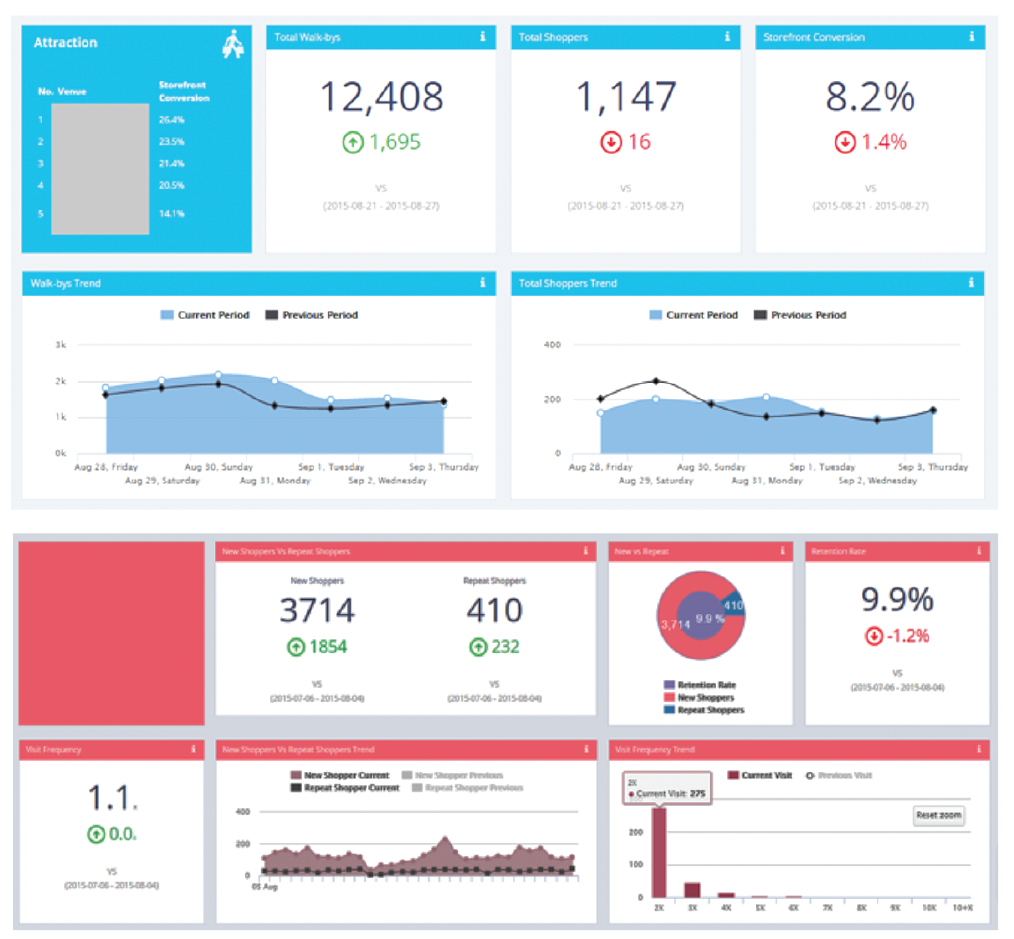 In-store Analytics: A 360-degree understanding of the Client's store performance through insights like walk-by traffic, visitor traffic, capture rate, average visit duration and customer retention
The Client has chosen to introduce more targeted campaigns based on their customers' visiting behaviour, such as rewarding customers entering for the fifth time in the past 30 days, or sending a message to those exiting the café for the second time in one week. There was also a decision to integrate the retail analytics solution with their Point of Sale (POS) system to enable seamless coupon claiming as well as incorporating sales data to the CRM platform.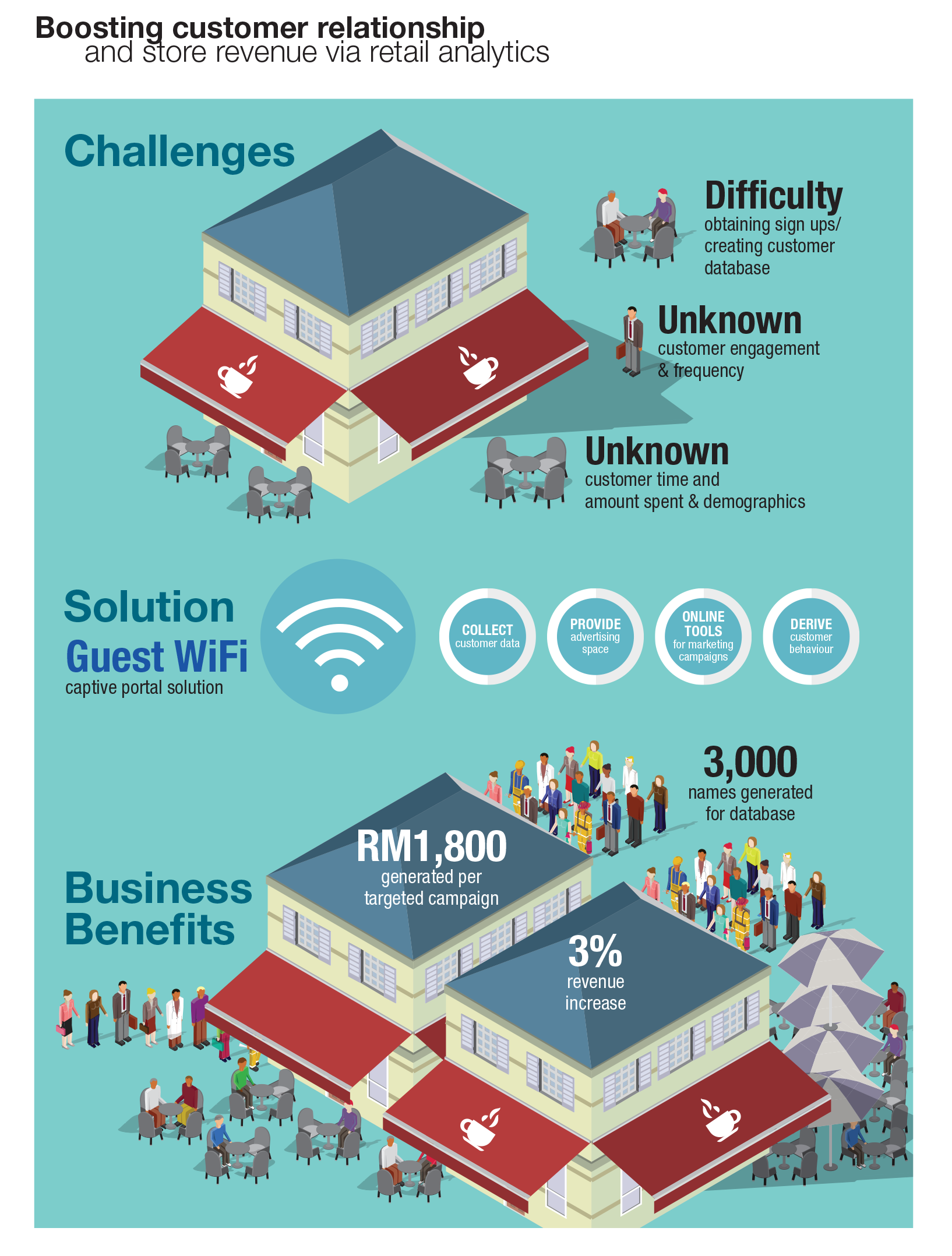 * from MIMOS
Need more about the solution? Contact us at (

[email protected]

)